Perfect Affordable 1x Gravel Bike? The 2020 Specialized Diverge X1 Carbon Bike Feature Review Weight
Perfect Affordable 1x Gravel Bike? The 2020 Specialized Diverge X1 Carbon Bike Feature Review Weight
2023 Specialized Diverge STR review: Absurdly comfy, but also heavy and pricey
30 mm of rear suspension travel, 20 mm of front travel, and clearance for 700×47 mm knobbies is a formula for a good time on rough terrain.
Heading out the door? Read this article on the new Outside+ app available now on iOS devices for members! Download the app.
[ct_story_highlights]What it is:A radically more off-road oriented Diverge family of gravel bikes.||Frame features:FACT 11r carbon fiber construction, Future Shock front and rear suspension, clearance for 700×47 mm tires, fully guided internal cable routing, threaded bottom bracket.||Weight:1,400g (claimed, 56 cm frame only); 8.62 kg (19.00 lb, actual weight, 56 cm S-Works Diverge STR).||Price:Scrooge McDuck money.||Highs:Ridiculously smooth and isolating ride quality with lots of rear tunability, immense off-road capability, versatile handling.||Lows:Not everyone will like the rear Future Shock feel, heavy, expensive, complicated.[/ct_story_highlights]
It's long been common knowledge that the bulk of a bike's rear end compliance – tires notwithstanding – is due to seatpost flex. As a result, seatposts have been trending smaller in diameter and longer in effective length, and often with purposeful shaping.
Specialized has now taken the concept to the extreme with the new Diverge STR flagship gravel bike, essentially turning its entire seat tube into a flexible seatpost. Specialized says it's good for 30 mm of travel, and it's even controlled by a dedicated oil damper.
Sounds complicated, no? It most definitely is, and it's also heavy, painfully expensive, and looks a little goofy, too.
But holy crap, is the ride quality amazing.
Double your Future Shock, double your fun?
STR stands for Suspend The Rider, Specialized-speak for the concept of isolating the rider from road and trail impacts instead of putting the suspension elements down closer to the wheels as it's usually done. We're already well accustomed to the idea up front with the whole Future Shock springy steerer tube thing, which first debuted in 2016. That has always come across as a goofy concept, but it works really well in reality – so much so that Specialized wanted to figure out how to replicate the experience out back.
That's easier said than done as simply sticking something like the Future Shock cartridge in a seatpost wouldn't produce the desired effect since the bump forces are oriented in a different direction. Specialized tried a few different ideas to isolate the back end of the rider the same way Future Shock does for the front, before ultimately settling on a concept that's essentially just a super long seatpost.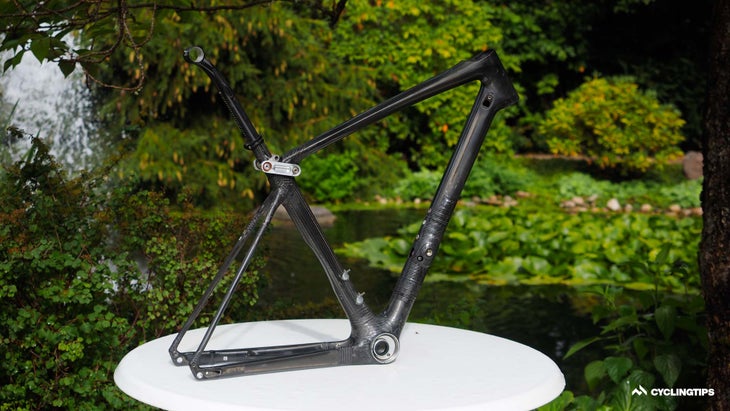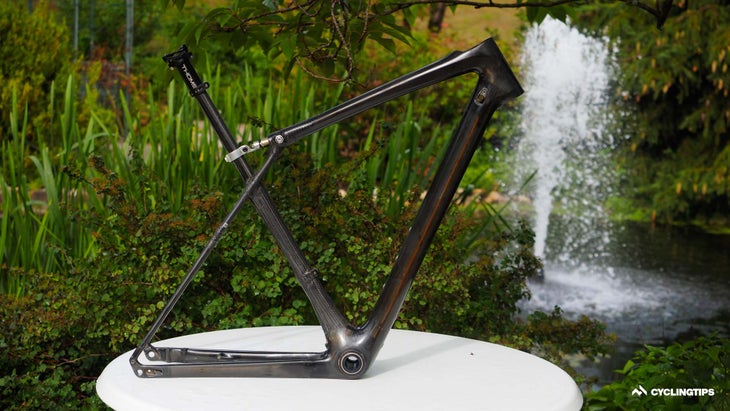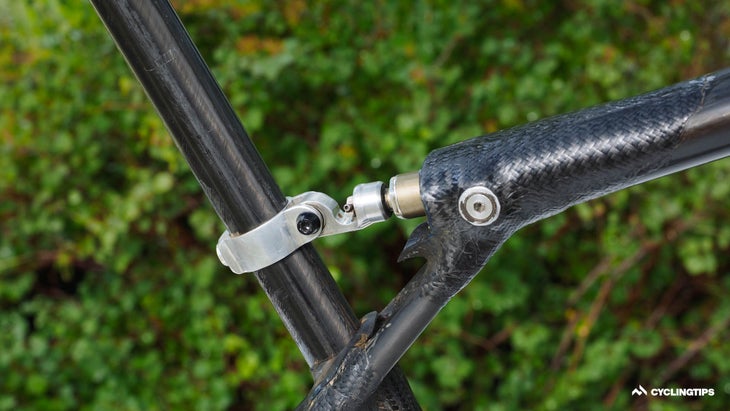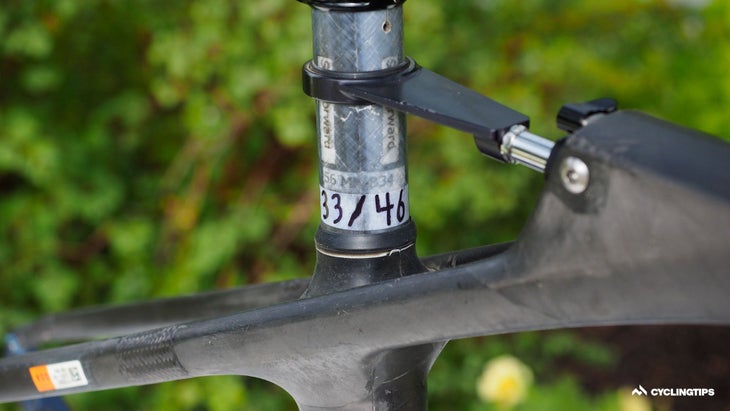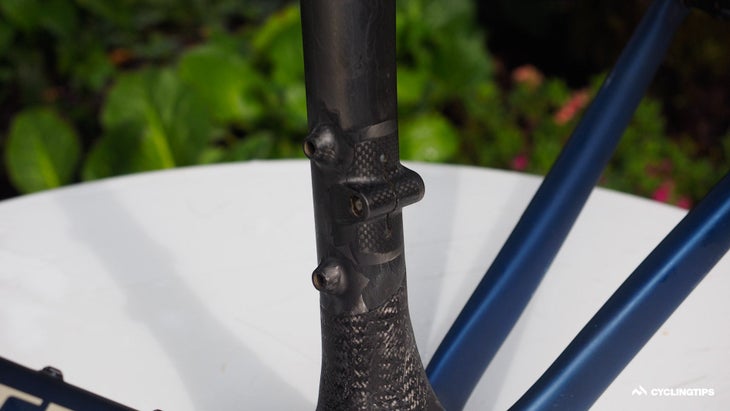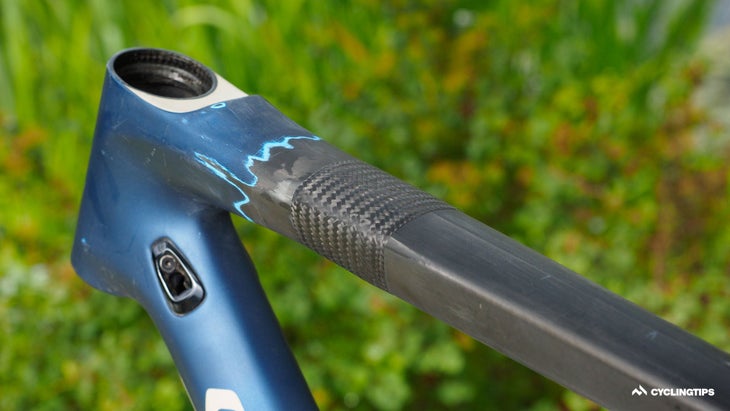 Specialized engineers and designers will cringe at my description of the new rear Future Shock system as just a super long seatpost, but that's exactly what it is.
Conventional bikes usually use a telescoping seatpost clamped somewhere around the seat cluster. Some frame flex happens below that point, but by and large, all the action happens above the clamp. The current Specialized Diverge and Roubaix (along with other bikes using similar concepts like the Canyon Aeroad and Endurace) already move the seatpost clamp a few centimeters further down, but the new Diverge STR takes the idea to the extreme.
The rear Future Shock system uses a conventional 27.2 mm-diameter seatpost, but it's clamped inside something Specialized calls a "framepost". That framepost runs inside the length of the seat tube, and it's anchored just above the bottom bracket shell. The seat tube is flared such that the framepost (and the seatpost attached to it) is free to flex fore and aft inside of it to provide the desired back-and-down travel path.
Having that long of a seatpost is great for flex, but without something to control the motion, you'd basically be riding a diving board. As such, there's a hydraulic damper attached to the top of the framepost, hidden inside the top tube and connected together with what Specialized calls an aluminum "tendon".
According to Specialized, the rear Future Shock system provides up to 30 mm of travel (potentially more if you really, really hit something massive), and the back-and-down direction of travel is aligned with how the bump forces are coming up through the rear wheel. Nine different frameposts – each with a distinct spring rate – are available to help tune the feel for riders weighing anywhere from 45-122 kg (100-270 lb). Each of those framesets is also built with a directional layup, so rotating it 90° in the frame provides yet another slight spring rate variation, making for 18 different spring rates in total.
Interestingly, because the framepost is designed to handle the bulk of the comfort duties, Specialized doesn't encourage the use of a flexible seatpost since there would then be too much uncontrolled movement. In fact, none of the new Diverge STR models feature the comfy-riding Roval Terra carbon post stock, but the upside of that is any 27.2 mm-diameter post will theoretically provide the same level of comfort. Notably, that includes dropper seatposts, which typically serve up a bone-rattling ride quality as compared to a good ride-tuned carbon post.
The damper inside the top tube is the same across the board. Specialized says the same base tune works for everyone, but rebound speed is adjustable with an Allen key, and compression speed can be set on-the-fly with a little lever in three steps: fully open, intermediate, and locked.
All in, Specialized says the rear Future Shock system adds about 400 g (0.88 lb) as compared to a similar non-STR Diverge frame. In other words, the rear Future Shock story certainly isn't about making things lighter, but Specialized insists that the improvement in ride comfort is more than worth the extra weight.
"On smooth surfaces, rear Future Shock remains still, only reacting to surface bumps to ensure a smoother ride, while eliminating any pedal induced bobbing for optimum efficiency and compliance without compromise," reads the marketing spiel. "On rough surfaces, the Diverge STR shows much more compliance, or down and back saddle movement, than the already industry-leading Diverge with a Roval Terra post. The result? A reduction in vibration at the saddle of more than 20% for a much smoother ride.
"Bottom line? Diverge STR is a smoother ride on both smooth and rough gravel, while ensuring pedaling efficiency, optimum control, and total confidence thanks to suspending the rider, not the wheel."
Hmm.
The rest of the Diverge STR
Aside from that main development, the rest of the new Diverge STR isn't all that different from the current Diverge.
Sitting atop the steerer tube is the same Future Shock 2.0 suspension cartridge that Specialized updated in 2019 on the Roubaix, and the same 20 mm of available travel. Frame geometry is nearly identical across each of the six available sizes, with the primary exceptions being 5 mm of additional bottom bracket drop and 4 mm of extra chainstay length on the STR for even more stability. Although the measurements are almost the same, the new Diverge STR certainly looks more low-slung what with its skeletal seat cluster area and those GT Triple Triangle-like extended seatstays, which flow into the top tube well forward of the seat tube.
There's a bit of aero shaping evident here (particularly in the down tube), but Specialized isn't touting the Diverge STR as being particularly efficient at cutting through the air. Instead, there's more focus on capability. Specialized says the new Diverge STR is officially approved for tires up to 700×47 mm (and will even clear "most 50c tires"), and while a 27.5×2.1″ setup is "totally fine" in terms of bottom bracket drop, it likely isn't necessary since there's so much clearance with the larger 700c wheels. 700×42 mm tires will come stock, and between that tire specification and the extra suspension out back, Specialized is clearly intending the Diverge STR to be the most off-road-oriented of the Diverge family.
Mounts are about the same as the standard Diverge with three bottle mounts on the main triangle (one underneath the down tube), a top tube feed bag mount, and mounts on each fork leg. A thick molded rubber guard protects the lower third of the down tube (together with a full-length strip of clear vinyl tape), while the chainstay protector is another big chunk of molded rubber with raised bumps to quell chain slap noise. Technically speaking, there are mounts for a front fender should you want one, although Specialized apparently really intends those holes to be used with a lowrider rack should you decide to do some bikepacking. You'll have to get creative out back, however, as there are no fender or rack mounts back there.
As on the regular Diverge, the STR's down tube doubles as a surprisingly spacious (and almost weatherproof) storage container. Underneath the quick-release panel hiding underneath the down tube bottle cage is enough room for a flat kit, a light jacket, and some snacks. Inside, the base of the frame is walled off so smaller items don't end up rubbing on the bottom bracket spindle.
Specialized has thankfully passed on the fully internal cable routing trend, instead sticking with the more traditional (and vastly more practical) semi-internal setup with lines running only through the main frame. Two entry points are located on the non-driveside of the head tube for the rear brake line and optional dropper seatpost, and both paths are fully guided end-to-end inside the down tube for easy plug-and-play servicing.
The new Diverge STR is only compatible with single-chainring drivetrains, but you have your choice of wireless electronic, wired electronic, or mechanic shifting. The one caveat is that if you run a wired or mechanical setup, you can't also run a dropper seatpost.
Claimed frame weight for the new Diverge STR frame is 1,100 g for a 56 cm size without the rear Future Shock bits, or about 1,400 g all-in.
Models, pricing, and availability – and how other Diverges are affected
Specialized is offering just three Diverge STR models, all built around identical FACT 11r (Specialized-speak for its premium blend of carbon fiber) framesets, and all outfitted with SRAM "mullet" 1×12 wireless electronic groupsets and 42 mm-wide Specialized Tracer Pro tubeless tires. All of the new bikes will supposedly be available right away – at least in limited quantities, and primarily in US and EU markets.
Brace yourself for the retail prices, as all of the Diverge STR models are very expensive, too – roughly US$1,000 more than a similar non-STR Diverge.
The top-end S-Works Diverge STR features a SRAM Red eTap/XX1 Eagle AXS 1×12 wireless electronic groupset, a Quarq spider-based power meter, Roval Terra CLX carbon clinchers, a Roval Terra carbon handlebar, and an S-Works carbon seatpost for US$14,000 / £13,000 / €15,000. Actual weight for a 56 cm sample was 8.62 kg (19.00 lb) without pedals or accessories.
The mid-range Diverge STR Pro goes with a SRAM Force eTap/X01 Eagle AXS 1×12 wireless electronic groupset (without power meter), Roval Terra CL carbon clinchers, and the same bar and seatpost for US$9,500 / £9,000 / €9,500. Actual weight for a 54 cm sample was 9.04 kg (19.93 lb) without pedals or accessories.
Finally, there's the not-really-entry-level Diverge STR Expert with a SRAM Rival eTap/GX Eagle AXS 1×12 wireless electronic groupset, Roval Terra C carbon clinchers, the same S-Works carbon seatpost, but an aluminum Hover handlebar for US$7,500 / £7,500 / €7,500. Actual weight for a 54 cm sample was 9.67 kg (21.32 lb).
Australia will only get the Diverge STR Expert (AU$10,500), although a bare frameset will also be offered there and in the US for US$6,000 / AU$8,500.
The introduction of the Diverge STR has some big impacts on the rest of the Diverge range, too. According to Specialized road and gravel category leader Stewart Thompson, the new STR is, "the ultimate expression of the Diverge concept, and the pinnacle of the Diverge line." But that also means riders keen on a premium-level, non-STR Diverge had better start looking for MY2022 closeouts.
Specialized will phase out the S-Works and Pro levels of the standard Diverge completely, leaving the Diverge Expert and Comp as the top-level non-STR offering with its lower-end FACT 9r carbon construction. There will also be a Diverge Carbon Sport model that's built with a FACT 8r carbon blend, and does without the handy down tube storage hatch.
Rounding out the Diverge frame range moving forward are two aluminum models: the Diverge E5 Future Shock at the Comp level, and the Future Shock-free Diverge E5 at the Comp and base levels.
Like it or not, this is where Diverge is going.
Listen to the Nerd Alert podcast: Suspension on gravel bikes
Ride report
All of this sounds interesting enough on paper, but how does it do on the road or trail? Is all of this complication, weight, and cost worth it?
That's a tough question to answer, but I will say this: The Diverge is weird, but mostly in a good way, and the ride quality is absolutely mind-blowing. Having ridden just about every gravel bike on the market (and just about every aftermarket add-on) that promises some sort of improved rear-end ride comfort, I can emphatically say the rear Future Shock setup on the Diverge STR is the comfiest of them all – even including the full-suspension Niner MCR.
For lack of a better descriptor, the Diverge STR is just incredibly, stupidly smooth. Although the rearward component of its motion is admittedly a little unnerving at first (especially when just playing with the system at a standstill), it doesn't take long to forget it's there. It almost seems like you're floating over the ground instead of rolling across it, and the system is so wonderfully free of stiction that even the slightest road or trail imperfection is totally erased. In fact, it's almost a mistake to talk about how it "feels", when in reality, what you're actually feeling is pretty much nothing.
Rear Future Shock is also impressively free of unwanted motion, at least when dialed in. There's a tiny bit of fore-aft oscillation while pedaling that's more visible than tangible, and while I noticed some side-to-side motion, too, it was more visually distracting than something that actually affected the ride. But since so much of the movement is fore-aft, there's almost no change in effective saddle height as the system is working.
Taking full advantage of rear Future Shock does require some recalibration. Although it's incredibly supple, it's also only beneficial when you're sitting down. You have to fight your natural tendency to stand up on rougher sections of ground until you learn to trust the system to do its job. But once you do make the adjustment, the benefit is less jarring of your body and improved traction, particularly on tricky climbs and loose corners where I found you can really drive the back end into the ground.
That said, you can't stay seated over everything, of course, and in those situations, the rear Future Shock obviously won't be any help at all. If you're not interesting in adjusting your riding style on rougher ground, something like the BMC URS might be more appealing. Although that system isn't nearly as supple as rear Future Shock, that rear end would still take the edge off of everything – seated or standing.
Tuning is key
Getting the system dialed in is a key requirement, however. I was generally quite positive about the feel of rear Future Shock during the bike's launch event in Germany last month, but I can't say every other editor there had the same opinion. While observing how the system worked under other riders, I couldn't help but notice how much it was bobbing under some, but almost motionless for others. According to Specialized's R&D team, rear Future Shock should feel a little weird, but it should be a "good weird". If it's a "bad weird", that's a good sign adjustments are necessary.
Specialized is taking a big gamble in that respect. Every Diverge STR will come with two different frameposts, and again, each of those provides two different spring rates. Specialized will have an online guide to help riders choose the best framepost based on things like body weight and saddle position, but there are a lot of variables to play with.
In my opinion, it's asking a lot to assume a rider will be willing to invest the time to find the right setup, especially when there's some minor surgery involved. Say someone really doesn't feel like messing around with all the different adjustments. Does that mean they got lucky with their initial rear Future Shock setup, or have they just gotten used to a less-than-optimal setup? Gravel riders coming more from the road side of things instead of the mountain bike world likely won't be familiar with stuff like spring rates and damper settings, either.
And what about changes in rider weight? It's not uncommon for rider weights to change over time – even seasonally – which will change the optimal framepost. Say you decide to take your new Diverge STR bikepacking and mount a big pack to the seatpost? What's the optimal setting then?
There's even the more basic issue of saddle position. The static seat tube angle of the Diverge STR looks normal enough on paper, but that doesn't account for how much the rear Future Shock system sags when you're sitting on it. My short femurs are usually fine with slamming the saddle forward on the stock setback seatpost, but on the Diverge STR, I found myself preferring a zero-offset one instead.
Details aside, you can see where I'm going here. While the rear Future Shock system can be really good, there's also a lot of room for error, particularly for riders that are significantly heavier than my medium-sized 72 kg frame.
Future Shock alternatives
Naturally, there will be comparisons drawn to Trek's IsoSpeed system, which is similar in concept in that it exaggerates seatpost flex. But in practice, the Diverge STR's rear Future Shock feels like IsoSpeed on steroids. The direction of the rear Future Shock's movement is more rearward given the far lower location of the pivot point, and it's softer and more active. Generally speaking, there's more of a "floaty" feeling, but whether that's better or worse is highly subjective.
There's also the white elephant in the room: add-on suspension seatposts. Just about all of them are not only cheaper and lighter than rear Future Shock, but they can also be added to most existing bikes. I think you can get reasonably close to the performance of rear Future Shock with one, although each carries its own set of compromises, too.
The Cane Creek eeSilk+, for example, has barely one-quarter the weight penalty of rear Future Shock while offering the same 30 mm of travel. But the motion doesn't seem quite as fluid, and there's more of a change in saddle height as the post moves through its travel.
What about the Cirrus Cycles Kinekt? Its dual steel coil springs offer a similarly creamy ride to rear Future Shock, but there's a lot of change in saddle height since the motion is almost completely vertical. And the Redshift Sports ShockStop seatpost? It splits the difference between the eeSilk and Kinekt in terms of travel orientation, but still can't match the isolation of rear Future Shock.
And what about flex-tuned rigid seatposts like those from Ergon and Canyon? Those are definitely effective, but also much firmer than rear Future Shock.
Nevertheless, all of these choices are reliant on where you place your priorities. I'd say rear Future Shock is the most effective of everything out there, but it's also the most expensive by a wide margin – and the fact you can get even somewhat close to the ride quality of a Diverge STR while spending less than one-tenth the amount (and with your current bike, no less) should keep the Specialized folks up at night.
But doesn't the Diverge STR blur the lines even further between a gravel bike and a mountain bike? Well, yeah, it does. I'd argue it's still a different animal, but without a doubt, that's a situation that's getting increasingly hazy.
Still the same Diverge otherwise (mostly)
As for the rest of the bike, it's the same Diverge as it was before, with the same plusses and minuses.
Up front, the Future Shock 2.0 setup continues to provides an impressively vibration-free ride that can really save your hands in certain situations. The adjustable compression damper mostly works as claimed, letting you quickly and easily firm things up on the fly, and while you might think the motion would be really disruptive, it honestly doesn't take long before you forget about it. I still wish Specialized would offer either different spring rates or at least adjustable preload, though.
"Our development and test riding found that on rear Future Shock, a wide array of spring rates was critical to a proper rider experience," explained Thompson. "With front Future Shock, there is a much tighter range required to satisfy different rider setups and still provide a positive experience."
I agree that the tuning requirements here are lot narrower than they would normally be since you're theoretically only suspending a rider's arms. However, that still doesn't account for riders that run longer and/or lower bar setups, who often use up most of the available travel just in sag, or even just personal preferences. Fingers crossed we'll see it in Future Shock 3.0 someday.
Handling-wise, there's not much to complain about, though not a lot that stands out, either. Specialized hasn't followed the latest trends with the Diverge family's front end, with shortish reach dimensions and somewhat taller-than-average stack heights given the Future Shock 2.0 cartridge length. Stock stem lengths are quite short and head tube angles are somewhat slack, however, and the 85 mm of bottom bracket drop is lower than just about anything out there.
As I experienced with the standard Diverge before, the slack head tube angle and relatively short stem makes the steering to be a little too floppy at lower speeds for my liking, although the benefit in terms of higher-speed stability is probably worth the tradeoff for most. Given the Diverge STR's off-road capabilities, however, I would have liked to see a more progressive setup for really pushing things on dirt.
Stiffness-wise, it's the same Diverge as usual. It feels great under power in general, but big seated efforts will result in some bobbing. However, since the rear Future Shock action happens exclusively above the bottom bracket, standing efforts still reveals a rewardingly rigid platform.
There's still that pesky issue of weight, however – and as already mentioned, the new Diverge STR is packing a fair bit of it. I spent the initial portion of my testing time on a 52 cm Diverge STR Expert, which tipped the scales at right around 10.5 kg (23.15 lb) with pedals and accessories (but no bottles). Pretty big number for a gravel bike, eh? Indeed, and I'd be lying if I said I didn't notice it. I could feel it on longer and/or steeper climbs for sure, but it also contributed to a general sense that the bike just wasn't all as eager to accelerate as I would have liked.
As I've often said, weight isn't everything, but it's not nothing, either. And as brilliant as SRAM's eTap AXS is groupsets are terms of function, there's no escaping the fact that Rival – and even Force – are pretty heavy, and further contribute to the heftiness of the STR platform.
But can I take a moment here to sing the praises of the down tube storage compartment? I know it adds weight and visual bulk, but it's just so handy, and so much cleaner-looking than strapping on a bunch of bags everywhere. It's no wonder so many other brands have followed suit in recent years.
Long-term concerns
Even if your particular riding style and conditions can justify the added weight, cost, and complexity of the Diverge STR over a more conventional gravel rig, there are some long-term issues that should be considered before you plunk down the credit card.
My biggest concern is with all the proprietary bits of the rear Future Shock system, and how reliant the Diverge STR is on them for basic functionality. The burly construction of the top tube damper is encouraging, what with its chrome hardened thru-shaft, long internal bushings, and stout-looking wiper seal. Specialized will also replace it for free if anything goes wrong with it within the first two years of ownership (with a "tiered" replacement cost from there). But what about afterward? Specialized has committed to having dampers on hand for at least seven years after the bike is no longer sold, but the damper isn't intended to be user-serviceable, and nothing lasts forever.
I'm not worried about fatigue failure on the frameposts given the high fiberglass content and relatively limited motion. But if you plan on having the bike for a long time and your weight grows with age, or you perhaps take up bike packing down the road and decide to load the bike up with bags, will you still be able to get a different framepost? And what about small bits like the rubber gusset that seals up the top of the seatpost, or that spindly-looking aluminum "tendon" thing (or, for those in super dry climates, the rubber bushing that goes between it and the framepost)?
All of this is something you should think about if you tend to hold on to bikes for a long time.
So who's the Diverge STR for?
Specialized already had the middle of the gravel market covered with the current Diverge, and the lighter-and-faster end with the Crux. With the Diverge STR, Specialized seems to be further separating its two gravel families (at least at the high end), and clearly envisions gravel riding moving further into the mountain bike space with more tire clearance, front and rear suspension, more weight, and more capability.
Perhaps that really is where gravel is going, but it still strikes me as a risky decision to move so many of the Diverge eggs into the STR basket. The current Diverge is very popular, after all, and however capable the STR is, it's also heavy, complicated, and expensive.
Gravel riders that always like to be on the cutting edge – and can afford to be there – will probably find a lot to like in the Diverge STR, as will perhaps riders with strong mountain bike backgrounds who are more likely to appreciate the performance benefits of the rear Future Shock design [raises hand].
If your definition of mixed-terrain speed goes well beyond aerodynamic efficiency and low weight, there really is a lot to like here. But I dare say Specialized's marketing team might have a heavier lift here than usual.
More information can be found at www.specialized.com.